If you search the Internet you will see a number of websites that feature project templates, PMO templates or both.  You may find that a page is titled PMO Templates, however upon visiting the page it then contains project templates.  Other descriptions seen maybe PMO Project Templates.  This can be very confusing, especially to someone new to PMO's who is searching for an explanation of "what PMO templates are?"  Therefore, I thought it would be helpful to publish an article that answers this question.
Important
Before going into the differences it is important to understand the following principle:
There is no simple definition of if a template is for use by the PMO or by the project teams.  Every template should be used in a way that helps support the objectives of the organisation.
So keep in mind that it is not possible for all templates to mark as either PMO or project, many can be used by both.  However, saying that, it is possible to identify who would be the primary user in most cases.
 Purpose of Templates
To set some context to this article, it is worth taking a moment to reflect on the purpose of templates.  The purpose is to standardise the approach to project delivery across the organisation.  The use of templates helps to ensure that all project data is captured in the same format using the same criteria.  This means that it is made much easier for the data to be captured, formatted, reviewed, compared and reported in a way where there is common understanding.
Simple Definition of Project Templates
These are the templates used by the project teams to manage the execution and reporting of the project.  Other teams will use the same templates but only for their own project.  There is no consolidation of data.
Simple Definition of PMO Templates
These are the templates used by the PMO to capture and consolidate the data from a number of projects, programmes or work streams.
Difference Between Project & PMO Templates
Based on the above, the simple difference is that the project templates are used to manage the project, the PMO templates are used to consolidate data.  There will always be exceptions, for example the project teams and PMO will have a communication plan and should use the same communication plan template.  There may also be instances where a large project has a number of work streams, in this case the project team will use tools to consolidate data from the work streams to produce overall project reporting.  However, while simplistic, this simple difference is a good principle.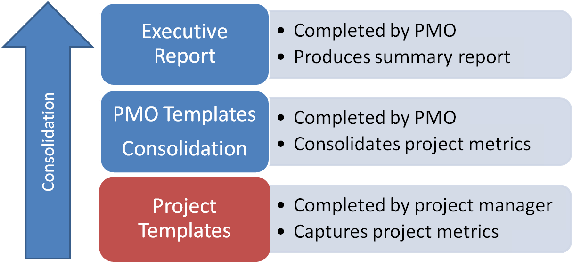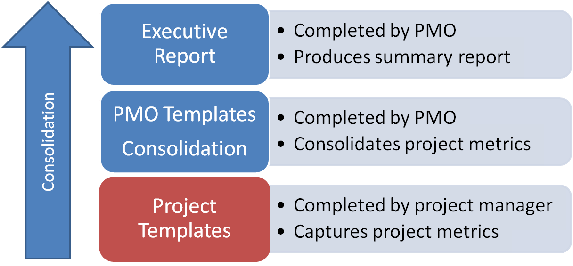 Difference between project and PMO templates
Typical Core Project Templates
Milestone / Project Plan
Cost Planner / Tracker
Benefit Planner / Tracker
Benefit Realisation
Risk Register
Assumptions Register
Issues Register
Dependencies Register
Project Report
Change Request
Change Request Register
Resource Planner / Tracker
Typical PMO Templates
PMO Milestone Chart
Cost Consolidation
Benefit Consolidation
RAIDs Consolidation
Programme / Portfolio Report (Dashboard)
Change Request Consolidation Register
Resource Consolidation
Shared Templates
Communication Plan
Planning Rates
RAG Definitions
Procurement Management
Document Storage
There are many other templates.  However, the above represent the core templates that are needed to set-up a working framework for project teams and a PMO.  Others can then be added as and when required.
Summary
Templates should be used to standardise and organise data.
The main difference between project and PMO templates is that the project templates are used for managing a project, the PMO templates are used to consolidate data so as to conduct analysis and produce meaningful management reporting.
An organisation should allow the best use of the templates to meet objectives.
If you would like more information on how templates can help, you may be interested in the information on the Project Template page.