An important part of setting up a PMO, is implementing a robust tool set, namely PMO and project templates.  These templates take time to create, valuable time that could be used to focus on getting the PMO up and running or mobilising projects.
Problem
If you have been involved in projects and PMO's for a while, it is highly likely that you will have developed (or purchased) templates.  However, how many times have you started a new role and you can think of a great template for the job but you can't find it as it is on your home computer or you can't remember where you stored in on the network, it has been accidentally deleted, attached to an e-mail in your mailbox archive, etc.  All very time consuming and not very productive (or satisfying).
Solution
I would like to share a simple and free solution that will mean that you will always have access to your templates and files as long as you have an Internet connection.
Dropbox is a cloud storage service that allows you to store documents and files on their service.  This means that the files can be accessed by logging in to a website.  This provides 2 important benefits:
Your hard effort of developing templates (or money if purchased) is protected with less chance of them being mislaid
You can access the templates and files from anywhere in the world where there is an Internet connection (subject to any local security requirements at your organisation)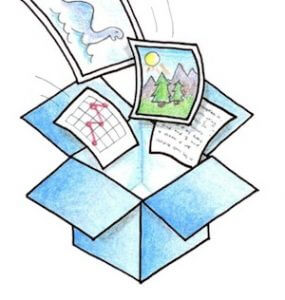 If you stop to think, if you are starting a project in another part of the world, then realise that you have a great template that could be used but it is on a PC at home, you would have no choice but to create a new one.  With Dropbox you can simply login with a browser and download the template – a big time saver.
Dropbox also allows you to download software that automatically sync files and keeps version control.  This is great where you are working on files between your desktop and laptop.  You can even get the Dropbox app for the iPhone and iPad.
At the time of writing, Dropbox Basic offers a free account with 2gb storage (Update this option is no longer available but there is a free trial).
You can pay if you find you want more storage.  For example, the Standard account provides you with 5TB of storage for the low monthly cost of £10.  I personally use this option as it means that I can also keep digital pictures, videos, music files as well as project files safe and then access them anywhere in the world.
Summary
This is a great service that can really help save time.  Take a look at the Dropbox website to view the functionality and sign-up for the free account.  Load up your important templates and you have your toolkit ready whenever you need it.
If you don't have a set of templates, you may want to take a look at our PMO Templates.  Our range of templates includes the PMO Template Framework, PMO Quality Assurance Framework and PMO Resource Toolkit (all will easily fit within 2gb of storage).
Using both the PM Majik Members Area (where members can always access the latest versions of their resources) and Dropbox for when you are working locally with your computer (no Internet access), means you will always be able to access the template you need.