The PMO Value Ring is a useful framework for you to demonstrate the value that your project management office (PMO) adds to a business. You need to be working towards a long-term value add so you need to have a PMO maturity plan to plot its evolution.
The steps of the PMO Value Ring that we've covered so far have been about defining your services, your KPIs, and the people you have and need to get the work done. This sixth step in completing the ring has you looking to the future of your office.
You need to know where you want your PMO to go so you can see the value that you will add in the long run. So that you can understand what the evolution of a PMO looks like, we're going to cover:
How to plan for your PMO maturing over time
What a PMO maturity plan will look like
The reasons you need to have a clear plan to develop and mature your office
How do I plan for PMO maturity?
Having a plan for the future of your office means you and your team know what you're working towards. You need to have a clear understanding of what PMO maturity looks like in general and how it will apply to your office in particular.
In a previous series of articles, we looked at different PMO maturity models. You should choose a model that works for the type of PMO you run and stick with it so that all your planning will follow the same framework.
When planning the maturity of your PMO, the first thing you need to do is look at each service you offer. You'll already have a balance of PMO services defined, and now you need to see how mature each is.
Assess each PMO service individually against your chosen maturity model. It's important that you segment maturity this way because you may be able to expect more value from some processes sooner than others.
The end result of this process will be the maturity of each PMO service plotted over time. As well as understanding where a process is at right now, you need to plan how long it will take to mature. This will give you a roadmap to plot the success of your plans.
Your expectations of how a service will mature will depend on what you want to see your office become, such as:
A centre of excellence for management, sharing best practices across the business to add value
A business-focussed office that evaluates and commissions projects, adding to the bottom line
A compliance and governance office that reduces risk and ensures accurate and valuable delivery
Why do I need to plan for the maturity of my PMO?
As we've looked at in this series about the PMO Value Ring, you need to decide on the quick wins and the long-term value your office will bring to the business. You need to have a plan for what that long-term will look like so it matches with the business goals.
You need to know how long it will take for each service to reach the optimising and improving stages of maturity so you can know when the full value add can be realised. At the same time, bringing some services to maturity on a faster timeline will let you develop some value sooner.
Resource planning is also essential. Your team needs to know the level of work that needs to go into maturing each service, and you need to know how best to allocate the people you have on your team.
Planning the evolution of the PMO
Your office needs to continually grow and develop to keep adding value. Tracking those changes through a PMO maturity model will ensure that you can see where the value will be added in the office.
After understanding what your PMO maturity and evolution will look like, you can start to calculate the return on investment for your office, which is the topic of our next article.
PMO Maturity Resources
If you are looking to accelerate the process to understand the current level of maturity of your PMO and define the required level of maturity, you may be interested in the PMO Maturity Assessment Framework, an official resource by pmmajik.com.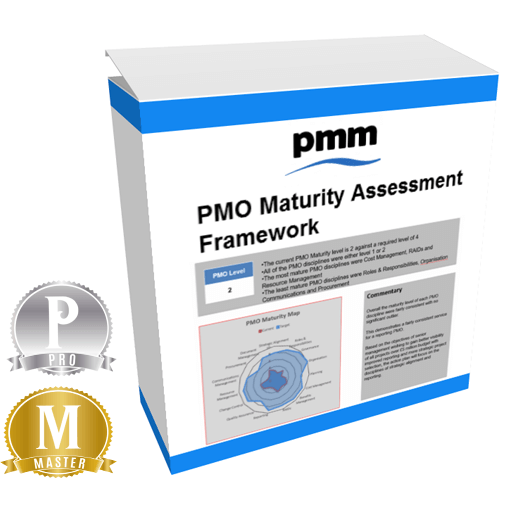 This is a complete framework that allows you to determine the Current and Target maturity of your PMO so you can quickly laser focus on addressing the gaps!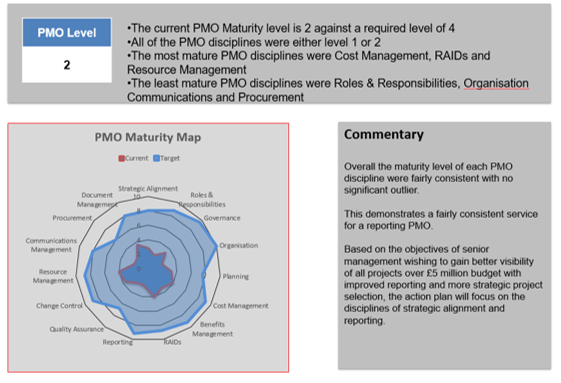 You can gain instant access to the templates, guides and video tutorials within the Members Area.