This probably the most important duty of a PMO. This is not to say that other aspects of the PMO are not important, it is the fact that reporting is the main communication tool of the PMO. It is the key deliverable that is produced every week or month.
Project Report
If a PMO is supporting a single project. The key report is the project status report. Regardless if there is a PMO in place or not, a project manager should be producing a regular project report to keep stakeholders appraised of progress, status, key issues, etc.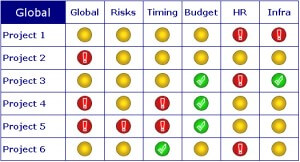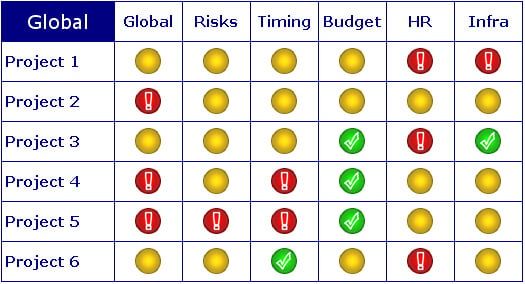 If a PMO is supporting a number of projects, then it makes sense to define a common project report that can be used by all projects. This should be supported with guidance on how the information should be populated, especially to define RAG (Red, Amber, Green) status .
By doing this it ensures that projects are reporting to the same standard and makes it possible to compare relative performance between projects.
The project report should include:
Reporting Period (date of report)
Project name
Project manger
Project sponsor
Overall RAG status
Financial details (budget, actuals, forecasts)
Executive summary
Achievements current period
Planned next period
Key risks, assumptions, issues, dependencies (drawn from RAID log)
Milestones
It is possible to include other information concerning Resources, Benefits, etc. However, the above will provide a sufficient report that provides the important information of each project.
The PMO should review the report submissions and review for quality and accuracy so as to help the project manager improve quality. Remember, the project report is not just a form filling exercise it is a very important management tool. If you are having problems getting the project managers to complete them correctly, remind them it is a platform to celebrate success with senior management.
Programme Dashboards
If the PMO is supporting many projects, it makes sense to present a consolidated view of the project portfolio using a dashboard. This should ideally be a single page that presents:
Project name
Project sponsor
Project manager
Executive update (including reason for any project not reporting Green)
Budget, Actuals, Forecast, Variance
Current RAG
Previous RAG
Dashboards are very powerful to quickly provide senior management with an up date for an entire portfolio.
Reporting Calendar
Routines are very helpful to help educate the project managers on what is expected and when. Therefore, a smart PMO will create a reporting diary that clearly indicates what reports are required by when. The calendar should clearly show when reports need to be submitted and when the consolidated report will be published. This helps ensuring that everyone is aware of dates, allows people to plan and stops every request being seen as a fire drill. It also shows that the PMO is in control.
Follow the steps above and you will quickly be able to develop and implement a robust PMO reporting process that will provide senior management with the visibility and transparency that they need to make decisions. This will promote confidence in the work of the PMO.