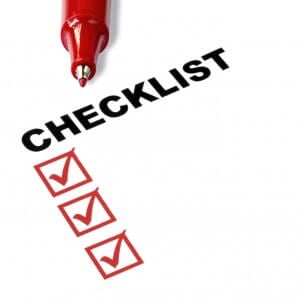 Project's are unpredictable. A project manager never can fully predict what will happen over the project life cycle. However, what can be depended on is that there will be project risks, that if not managed correctly, will become an issue and will often result in a change request being required to reset the plan.
Given the certainty that change will happen, it is very important that the PMO implements a robust, pragmatic process to manage change. The objective being to make sure all requests are clear, transparent, impact full known and communicated / agreed with all stakeholders.
The purpose of this post is to provide a checklist for the PMO (or anyone) reviewing the change to ensure that it is ready to be reviewed and agreed.
Change Request Checklist
5 checks that a PMO can perform to ensure that a change request is ready to be processed.
1. Change Request Form
All change request processes should have a mechanism to capture the information relating to the change. This typically will be in the form of an online or offline template.
The first check is to make sure that the form has been fully completed and that it clearly explains the change. If it does not the person submitting the request should be asked to update and fully complete the form.
Tip: If the change is not clear to you, it is highly likely that it will not be clear to other stakeholders who are not as close to the project. Therefore, it is a good test to ensure the form is clear, does not use acronyms, etc.
2. Impacted Parties
Often the change will impact other projects or BAU processes outside of the project. If this is the case, all impacted parties should be named as needing to review and sign-off the change.
If all parties have not been identified and / or have not signed off. The form should be rejected and the owner asked to ensure that all parties have been engaged.
This is a critical step as it will allow any impacts to be identified. It is common for a project to only consider the impact for their own project not in respect of others.
3. Impact
The change request must clearly indicate the impact of the change, usually in the form of scope, schedule or cost. It should also include details of any alternative approaches that have been considered to try and keep the project on track.
Using a change control to reset a project can be seen as the easy option but usually has a detrimental impact (usually cost and schedule). A good project manager should try to seek alternatives before going the change route.
Tip: As a PMO, you are entitled to challenge and even suggest ideas that could be considered to try and avoid the change request.   Great way to add value.
4. Dependencies
Make sure that the request identifies any dependencies.   For example, the proposed dates in a change request may be dependent on another project delivering by a set date. It is important that this is understood and agreed. If not the revised plan will not be achievable and will highly likely result in another change request.
5. Realistic
This is more of a subjective test. Does the proposed change really look like it can be achieved? Project managers have a habit of being overly optimistic and do not factor all of the day to day organizational challenges i.e. the length of time to achieve sign-off.
The PMO can help by applying the "sense check" to ensure the plan is realistic. If it is not, it is better to suggest that contingency is built in. Remember, the project manager will be under pressure from the sponsor to meet the original time-line. However, the pain of agreeing a change with a slightly longer time-line will be less painful than going back to agree a second change request at some point in the future.
Summary
Most projects will be impacted by change. Therefore, having a sensible approach is important. Using this simple list of checks will help the PMO improve the quality of requests and in turn improve quality and transparency.
For more details on what should be included in a change request process, take a look at post Project Change Control.