It is important as a change agent, project or PMO manager that you constantly strive to develop your skills. This will help to ensure that the service, the value you provide increases.
This can be achieved through many channels including online articles, reading books, attending classroom based training, etc.
A useful method is to listen to podcasts. A big benefit of podcasts is that they are portable and you can listen to them when you are on the move (car, train, walking).
The next logical step on from podcasts is to listen to audio books. There are so many good books but just not enough time to read all of them.
Audio books means that you can listen while traveling where it would be awkward to carry a book. What is even better is that it is possible to get a membership from Audible for US $149.50 a year that enables you do download 12 books.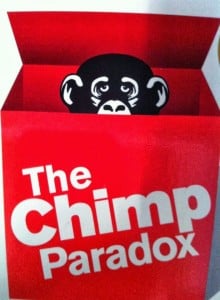 While this is a useful tip, the reason for the post is to share a book that has some lessons that are extremely relevant for change and PMO professionals. The book is The Chimp Paradox by Dr Steve Peters, which is in the Audible business chart (the printed version is also available on Amazon).
One of the key take-a-ways is the principle that we all have 2 brains, the human brain and the chimp brain. Obviously we only have one.
However, knowing and acknowledging that both fight to dominate our thoughts and behaviors is very insightful for helping drive the right actions.
In the book, the chimp brain is the one that operates at the basic level. Re-acting with emotion. The human brain takes the information and tries to process rationally.
So logical, we should all want the human brain to control how we re-act. Unfortunately, the chimp brain is the one that receives the message first and re-acts at lightening speed.
How many times has a project manager sent an e-mail that is incorrect, blaming the PMO for something. You know this is not true and, due to the reaction of the chimp brain, you are furiously typing a pointed response.
While the original mail may be incorrect, sending a fast, hostile response will not serve to resolve the situation. This is where you need your human brain to be in control.
Being able to maintain a balanced view when working within the change management arena is a very sort after skill. Rising above the emotion, not having the desire to defend, attack, win, will lead to you achieving more and, most importantly, in a way that is professional.
So when you feel that your immediate response is to re-act with emotion, take a moment to collect your thoughts so you can respond without emotion.
You may have heard of methods such as "counting to 10 in your head" – this is good as it allows the human brain to take control.
However, the book also talks about the importance of allowing your inner chimp to have the ability to be let free but in a controlled manner.
So, perhaps you do need to type the response to the incorrect e-mail, stating all the reasons they are wrong – this meets the need to the chimp brain. However, instead of sending, you should save and then review when the human brain is back in control before deciding to send.
Rising above the emotional e-mails and heated discussions to remain balanced and focus on what needs to be achieved will lead to long term success. It will also help to avoid actions that will be regretted in the future.
Conclusion
Self development is important to expand your skills. Understanding the principle of the chimp and human brain will help how you approach each situation giving you a better chance of remaining in control.
If you have any books that you have found useful that you would like to share, please take a moment to add to the comments of this post.