For a PMO to be effective, it needs the correct level of support (especially from the PMO sponsor – see post PMO sponsorship why it is vital).  However, it is also important to have support from other critical stakeholders.  Without their support it can make implementing the tools and processes for a PMO very difficult.
So if you are running a PMO, it is a good idea to identify the key stakeholders and have an understanding if they are supportive (or not) of the PMO.  This can be achieved by conducting Stakeholder Analysis.
What is stakeholder analysis
This is a process of identifying all of the stakeholders who have an interest and / or influence over the PMO so as to understand who is supportive and who is  not supportive.  This then allows a plan to be constructed to move those who are not supportive to being supportive.
How to capture stakeholders
This is very simple.  Identify all of the stakeholders who have an interest and / or influence over the PMO.  Note: the interest may not always be positive.
Capture the names into a simple table or grid together with role (try to make the role specific to the PMO).
Evaluate stakeholders
For each stakeholder, evaluate their power and influence over the PMO:
Low power, low influence
Low power, high influence
High power, low influence
High power, high influence
Typically those identified as 1. low power, low influence can exercise the least impact to the PMO.  Those identified as 4, high power, high influence can exercise the most impact and can be a great help (or hindrance) to the PMO.
That said, caution is required for those in 2, low power, high influence.  They may have the ability to influence those with high power.
Evaluate if the stakeholder is supportive
For each stakeholder, assess if they are a:
Advocate – supportive
Blocker – not supportive
Neutral
Unknown – note: try to reach assessment as soon as possible
Capture this information into a template such as the example below.  Then indicate for each stakeholder what level of support is required.  As you can see you can quickly see where you have stakeholders who are "blockers" where they need to be advocates.


Stakeholder Analysis Template
If you want a diagram view, it is also possible to plot the stakeholders onto a stakeholder map (similar to a SWOT analysis) using colour label's.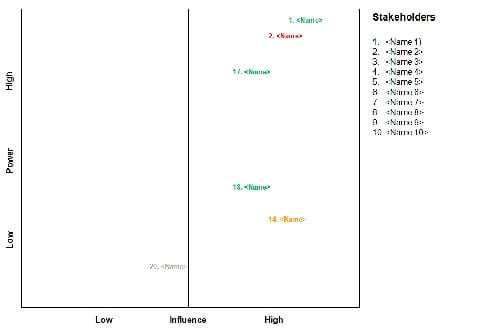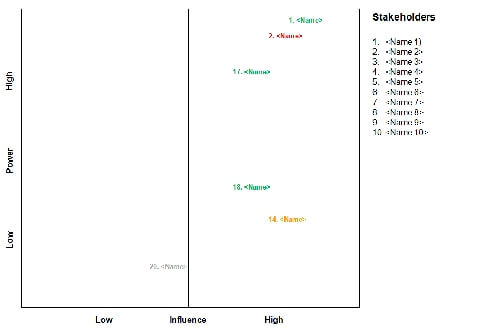 Stakeholder Map
Stakeholder Management
After you have identified and evaluated the stakeholders, you need to manage the stakeholders.  Attention is particularly required in moving those that are marked as 'Blockers' to 'Neutral' or 'Advocate'.  Focus should be on those with high power, high influence.
However, don't neglect those who are 'Advocate's', as you need to keep them engaged and will probably need their help with those identified as 'Blockers'.
Download the stakeholder templates.
You can download the Stakeholder Analysis Template and Stakeholder Map for free by using the links below.  All you need MS Excel and Powerpoint compatiable software.
The next post will provide some ideas on how to manage the stakeholders.