The last post covered why it is helpful to establish a PMO reporting calendar so as to ease the task of collecting updates from all the project managers. So if you have been successful in putting this in place and all of the project managers are submitting their status reports, what next? You had better do something meaningful with them otherwise you will soon have a bunch of disgruntled project managers on your hands and no reports in future months.
On a serious note, you should aim to collect the following from the project managers for the PMO reporting.
Monthly Reporting Data Items
You should ask (expect) the project managers to provide the following:
Status Report
Milestone Update
RAIDs Update
Schedule Update
Costs Update
Benefits Update (if applicable)
The PMO should review all of the reports to make sure that they are accurate and make sense. If the PMO is aware of an emerging theme that is not correctly reflected in the reports, they should discus this with the project manager so the report can be updated. Remember one of the responsibilities of the PMO is accurate and timely reporting. How can senior management make decisions if the report is incorrect?
PMO Reporting
When you have all the reports with accurate information, you are ready for producing the PMO reporting.  What this means is taking all of the reports from the projects and consolidating them into dashboards that provide a clear overview of the status of all projects.
It is very important to invest time into building effective dashboards.  A good dashboard will definitely get the attention of senior management meaning the PMO will be seen to be in control and doing a good job.  Don't invest the time and the information will be questioned and will raise concerns in the minds of senior management.
Take a look at the post on 5 Things you need on a propject report for some more ideas.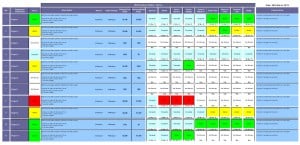 Programme Mobilisation Heatmap
If you are struggling defining reports, consider investing in a set of project templates.  It is far easier to use or adapt a template that has already been put together.