PMO Definition
In any organisation or industry, you will find a wide range of acronyms being used.  For a new comer this can be very disconcerting as you join a meeting, people are talking energetically using acronyms and you do not know what they mean.
This means you then have a choice, listen intently and try to work out the meaning.  If you can't use Google when you leave the meeting or ask one of your new colleagues.  The other approach being to wait for an appropriate moment and ask for clarification of the acronym.
I am a firm believer that you should ask for clarification.  After all, if you are new to an organisation, you can not be expected to know all the terms they use.  However, there is a risk that the other people are using recognised industry terms.  Therefore, you may not want to expose the lack of knowledge, especially if you have been hired for having the appropriate expertise.
This same challenge exists for the different names used to describe a PMO.  Therefore, this article and presentation captures a list of the common terms into this article.
PSO – project support office
Some organisations use this term as the service provided is more administration support as opposed to helping to manage a project.
PMO – project management office
Supporting the project to deliver.  The level of management and support will vary depending on maturity of PMO (and organisation).  Please see the posts on the different types of PMO.
Admin / Reporting Clearing, Hybrid, Managerial
PgMO – programme management office
Typically will have oversight manage a number of projects that form a programme.  This may mean that the PMO's will report into the PgMO.  Just to confuse matters, it has been increasingly common for PMO to be used for both project and programme.
PPMO – project portfolio management office
This will be building a view of the projects programmes in a defined portfolio.  While they can be used to manage delivery, most organisations use them to make decisions on what should be executed and when.
EPMO – enterprise project / programme / portfolio office
This will usually be the overall PMO owning standards, strategy, direction, etc.  It will link to the PMO network to ensure that all projects are aligned to strategy and following defined standards.  Very popular for organisations who want their strategies to be converted into change programmes and executed.
The diagram below summarises the different types of PMO.  While it is easy to see that the PSO provides the lowest "value add", it is not so simple to as saying an EPMO provide the most value.  Each offers a different type of service so, a different value.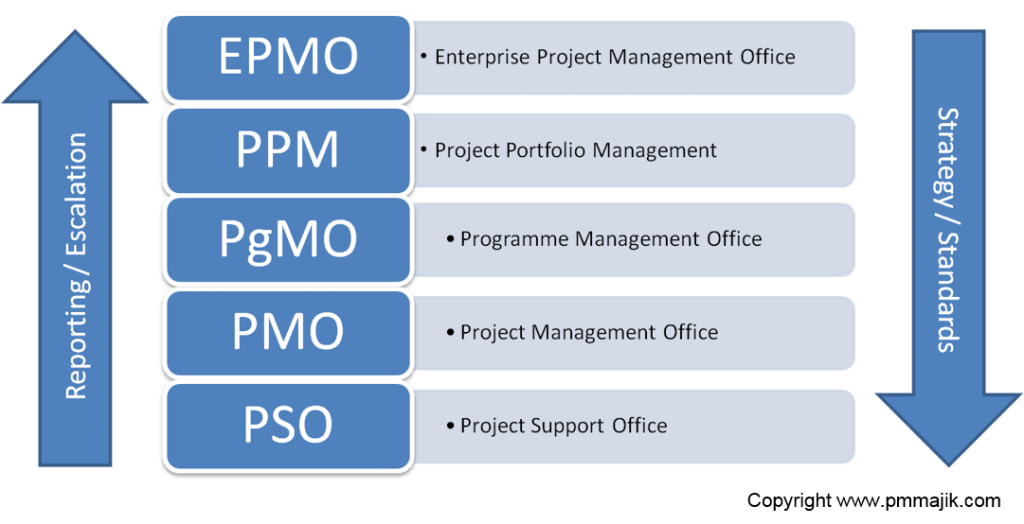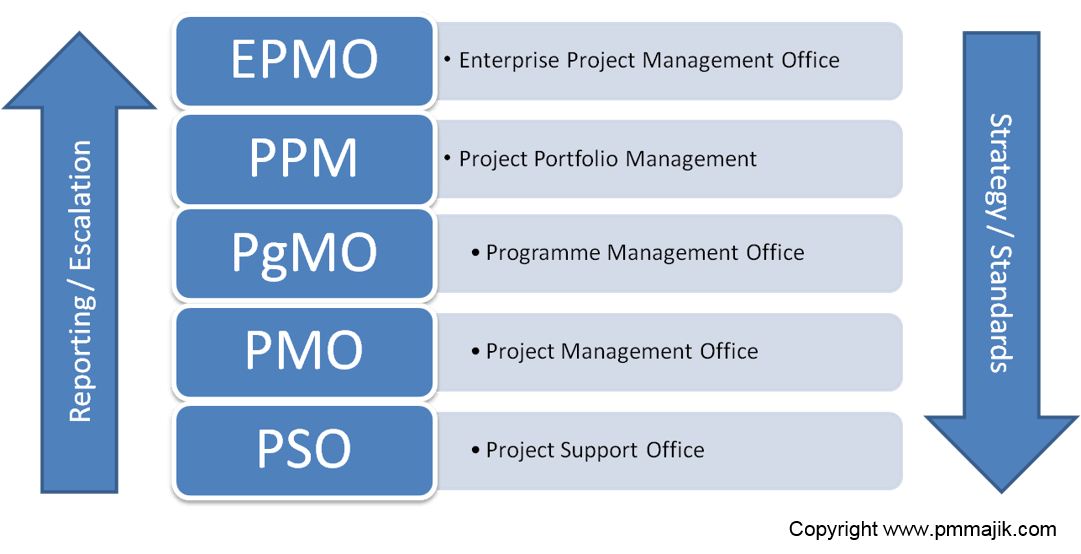 Types of PMO Presentation
To close
This should provide with a good starting point of all of the common acronyms used to describe a project management office.  It is also important to remember that if someone does use an acronym, do not be afraid to ask them to explain what it means, you may even find that they do not know themselves!
You may be interested in the following for more information on this subject, PMO Meaning.