There are risks everywhere, and in your project management office (PMO) you need to know how to work with them. Negative risks need to neutralised and positive risks optimised to ensure you get the best out of your office, and there are 7 types of project risk your PMO needs to understand.
What are project risks? There are a whole range of things that could go wrong on any given project. The importance lies with how you go about fixing it.
We want to look at the internal risks your PMO can face on projects. We're going to go through:
Seven different project risks with examples
Ways to mitigate the risks
What to do with these risks once identified
What are the 7 types of project risk that a new project faces?
Risks are everywhere in projects, as in life. There are risks that you can't control, such as external issues like poor weather or exchange rate changes, and risks that you can work with on an internal level.
1. Scope creep
A well-defined project can easily get derailed when stakeholders identify changes, the market adjusts, or the team finds an internal issue that needs working on to aid delivery.
You can avoid the risk of scope creep by making sure there are detailed plans completed and realistic tasks assigned. Having strong contracts or agreements with stakeholders about amendments will also help. Don't lock your projects down if they're in a dynamic market, though – it's possible to respond positively to market changes when needed.
2. Costs
The bane of many a project manager and PMO is to keep a lid on costs. External factors like interest rates or banking fees can be issues, as well as unforeseen spending on just about anything you can think of.
Again, planning should be a solution here. Knowing what could be coming down the line will help stop costs escalating, and having a healthy contingency for each project should cover most potential problems.
3. Time
Everyone dreads a project overrunning. The lesser talked about risk is a project coming in too early – not all risks are negative ones. Lots of factors contribute to a project going over time, yet most can be negated.
Having a strong plan is vitally important. Being realistic about the timeframe is imperative. Invite specialists from projects to assess whether coding targets, for example, are reasonable. Be sure you use the right project methodology for the type of projects your PMO runs, too.
4. Technology
Getting the technology right for your projects will be a big factor into whether they're successful. Your team need the right tools to do all the jobs you ask of them.
Be sure to understand precisely the features you'll need. If you have remote workers, ensure tech is compliant across operating systems, for example. Tech that's too old and not fit for purpose will also hold a project back.
5. People
You can plan for paid leave requests during the life of a project, but what about sickness or caring requirements? There's also the risk of an impromptu resignation.
The best way to plan for people risks is to be ready to respond with solutions. Having team augmentation contracts in place or a profile on a freelancer site on Upwork, for example, will make filling skills and resources gaps much quicker.
6. Communications
There needs to be swift and effective comms between projects and your PMO, which means these things get challenging. You need to make sure that nothing gets lost in translation and everyone is working toward the same strategic goals.
Have a strong communication plan in place with details of tools and levels of informality help. Having accurate training will also mean your team will have a better understanding of what's expected.
7. Procurement
Ever been to the supply cupboard to find the office is devoid of staples? You can find yourself out of much more than the basics with unstable supply chains or not able to get all the bits and pieces you need for your project.
Be sure that your supply chains are steady. Have a contingency plan for items like computers or any software needs. Before signing up for tools like proofing or storage, remember to check how scalable they are and how quickly.
What next for project risk management?
To manage these risks, you need to follow a six-step plan:
Identify
Analyse
Prioritise
Own
Respond
Monitor
We'll go into the process to follow for risk management in the next article. The first step is to know where to look for the seven types of project risk your PMO needs to understand.
7 types of project risk infographic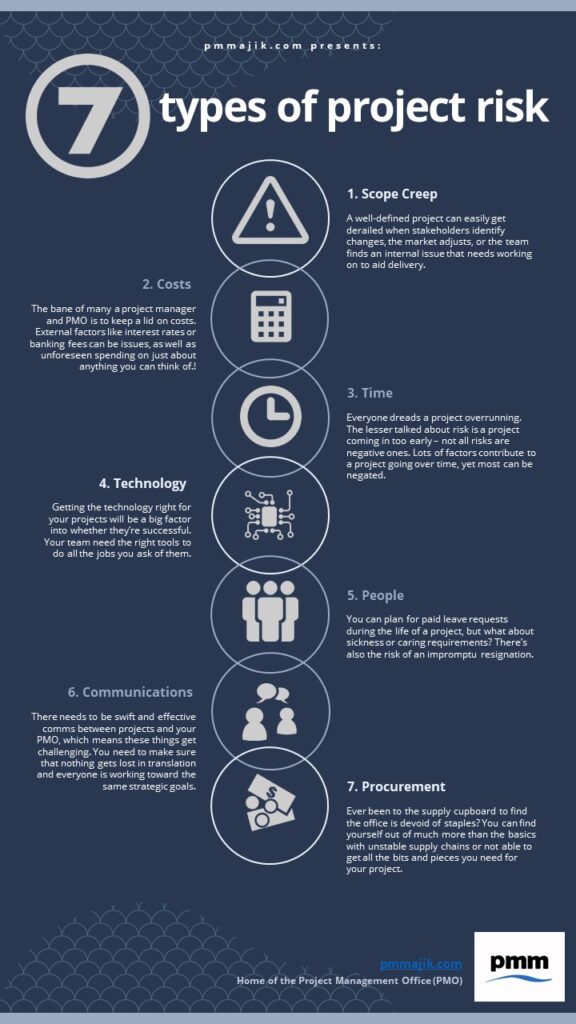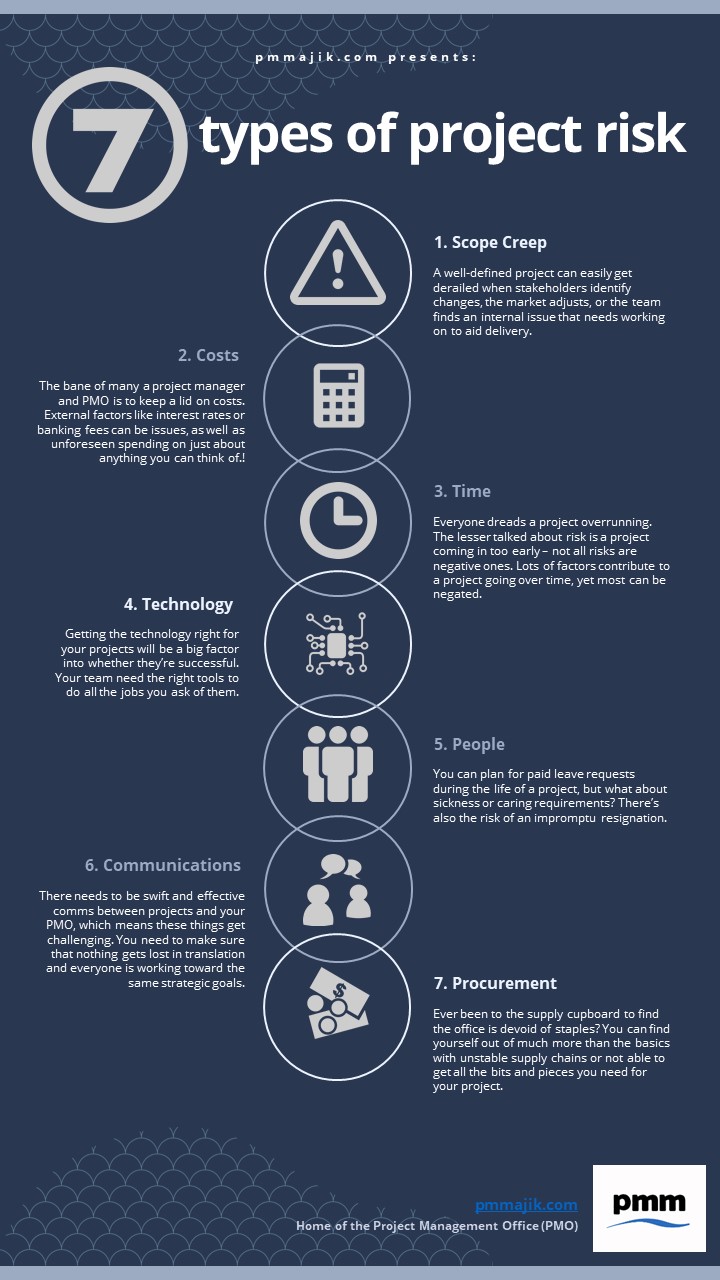 Project risk presentation